REGULATION IN JAPAN
TWO REGULATORY AUTHORITIEs
Ministry of Health, Labor and Welfare (MHLW)
"Authorizer" a/o "Organizer"
Marketing Authorization
Safety Measures for emergent and significant case
Examination and Authorization

Orphan Drug Designation
Type 1 Use of Living Modified Organisms (LOMs) #1
(#1 Cartagena Act: Act on the Conservation and Sustainable Use of Biological Diversity through Regulations on the Use of LMOs
Type 1 use: Use without preventing the dispersal of LMO into the air, water or soiloutside facilities.)
Pharmaceuticals and Medical Devices Agency (PMDA)
"Reviewer" a/o "Guide"
Scientific Review
GxP (GCTP/GCP/GLP/GMP etc.) inspection
Consultation on

Research and Development Strategy
Quality#2 and Non-Clinical Safety
Clinical Trial Protocol
Application and Data Package
(#2 Standard for Biological Ingredients: Real Japanese standard, Major Gap compared with US(FDA) or EU(EMA))
TWO ACTs FOR REGENERATIVE MEDICINE
Act on the Safety of Regenerative Medicine (ASRM)
[Enacted in November 2014]
To establish steps for the practice and ensure the safe and ethical administration of regenerative medical technologies including Gene therapy
<Key Points>
Processed cellular products should be produced under the guidance of a medical institution, for the purposes of "clinical research" or "medical treatment at one's own expense", and meant for the treatment of a specific patient.
Foreign CPC need to receive an inspection by PMDA to get a license.
Pharmaceuticals and Medical Devices Act (PMD Act)
[Revised in November 2014]
To provide a route to market and establish regulations for regenerative medical products that is more in sync with the current industry/patient needs.
<Key Points>
Conditional Time-limited Approval
A system of approval put in place for those regenerative medical products that have all of the following conditions, and allow for the sale of products for up to 7 years:
No any major safety concerns
Probably effective
Not uniform in nature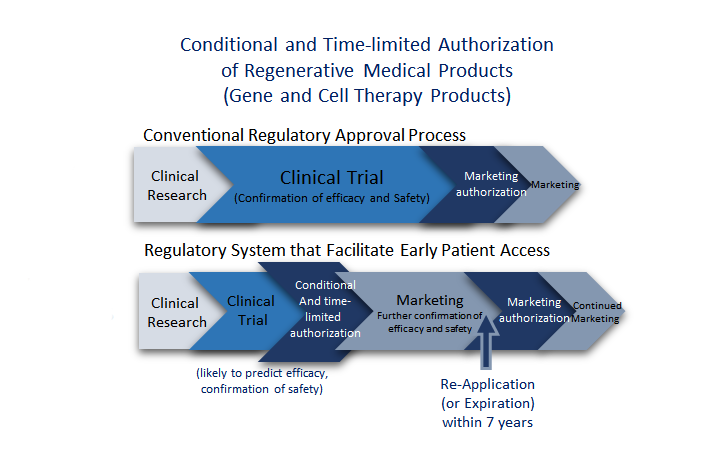 Regulatory Science Strategic / Comprehensive Consultation
Assistances/Supports for Preparatory Meeting, "Zizen-Mendan"
Product reviewing
Guidelines and consulting items identification
Briefing documents preparation
Meeting arrangement
Assistances/Supports for Face-to-Face Advice Meeting, "Taimen-Jyogen"
Briefing books preparation
[Quality]Preliminary compliance survey for the "Japanese" Standards for Biological Ingredients
[Quality]Eligibility evaluation for products supecification, quality control, in-process control and impurities management
[Safety]Sufficency analysis of non-clinical safety studies
[Safety]Assessing the nessecity of Type 1 or 2 Use Application under the CARTAGENA-ACT
[Clinical]Drawing the Diagram of Overall Development Roadmap
[Clinical]Detailed Description of Clinical Trial Protocol
Meeting arrangement
Archaive of PMDA's official comments
Process of Regulatory Science Strategic / Comprehensive Consultation